Hi there . Welcome to my room . Thank you for calling in .
A very quiet week here . Managed 3 posts last week then life's mundane duties seemed to take over . Then my mojo went walk about . Then my printer went on strike ...GEEEEZ!!
To top things off I had a large order that came in two boxes , each delivered on different days . just thankful they turned up at all .
The craft session on Friday with
Jane
here . Missing her postings but she has been dabbling in papercraft on and off so maybe we will see something from her soon ..Like that pretty box she made with
Sandy
recently ..
But , hey , here it is a new Linky Party
Make it Monday Linky Party
# 127
And I have to say I just could not wait to print this fabulous image and colour her with copics .
Here I used
Paprika as Raggedy Ann
which was generously supplied by our sponsor this week.
and inside .
Card , paper , diecuts ribbon and brads[ flower and dragonfly] from my stash .
We are pleased to welcome another new sponsor to Make It Monday this week.
The absolutely fabulous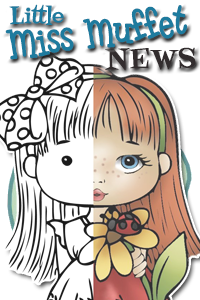 http://www.littlemissmuffetstamps.com/
Little Miss Muffet will be offering our winner
3 digis of their choice!
Remember, to be in the running to win the prize from our sponsor this week just leave a comment for another entry. Be sure to mention you saw them on Make It Monday. The more entries you comment on the more chances you have of winning!
I can tell you that the DT has some amazing projects to share with you as usual . So I hope that you will track over to see their posts .
Now for my Pick of the week ... # 188 Nancy
This is the inside and the front is so fabulous I'd like for you to check Hazel's post .Well worth a visit
http://craftingpassions.blogspot.ca/2013/02/flying-just-for-you.html
Well , enjoy your Monday , may it be the beginning of a happy week ..
Catch you again soon , cheers for now , Shirley-Anne